Schuylkill River Sojourn Opportunities
SAN Sojourn Steward
Calling all kayakers! SAN is requesting project proposals for the 25th Schuylkill Sojourn.
How do you interact with the river?
What questions will you seek to answer on the journey?
What stewardship activity can you bring to your fellow Sojourners?
The Schuylkill Action Network (SAN) partners with Schuylkill River Greenways (SRG) to sponsor a steward to attend the annual Schuylkill River Sojourn. The Sojourn Steward engages sojourn participants in a stewardship activity while taking photos and posting on social media about their experiences.
The Schuylkill Action Network (SAN) is providing one full scholarship ($1,035 value) for the 25th annual Schuylkill River Sojourn from June 17th (optional pre-event camping June 16th) through June 23, 2023. Kayak rental (including paddle, life vest, and dry bag) will be included in the scholarship if needed. This trip includes kayaking down the Schuylkill River and overnight camping.
The SAN is seeking an enthusiastic individual who is interested in documenting their experiences, taking on an engaging stewardship project of their choosing, while traversing the Schuylkill River in comradery with fellow sojourners.
Basic paddling experience is required. Social media experience is preferred but not required.
Application Deadline is May 1
Learn more about the Sojourn hosted by Schuylkill River Greenways.
---
Sojourn Diversity Scholarships
The Schuylkill Action Network (SAN) is providing racial diversity scholarships to Sojourn participants including people who identify as African American, Black, Indigenous, Hispanic, Latino/Latinx, and/or Asian & Pacific Islander. Participants will be chosen based on application questions displaying interest in the Schuylkill River and outdoor recreation.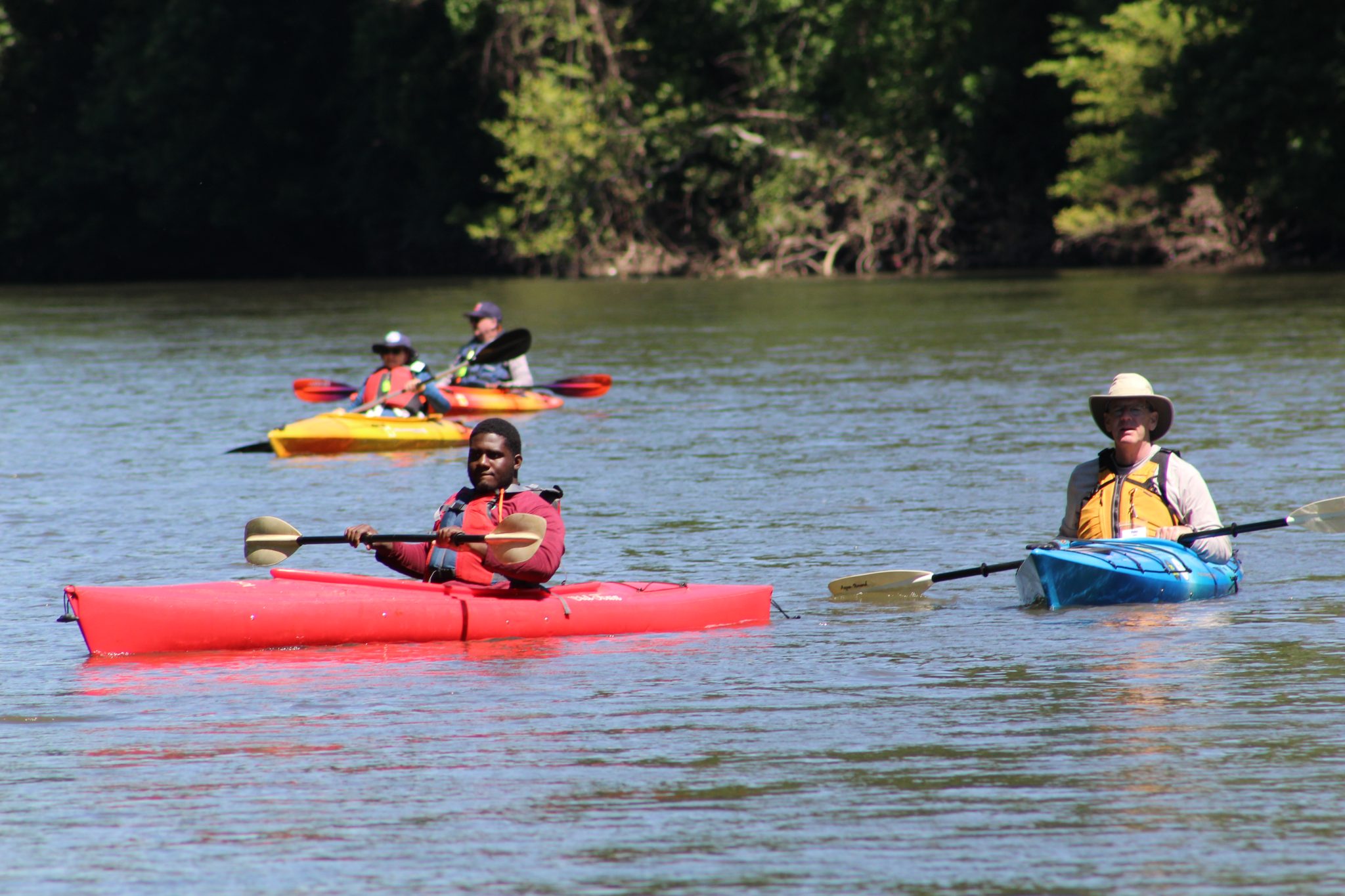 Scholarships will include costs for Sojourn registration fees and kayak rental (includes paddle, life jacket, dry bag) for a participant, and a friend for 2 days of the Sojourn. This scholarship aligns with the SAN's values and mission that the Schuylkill River, clean water, and outdoor recreation is for all, and to prioritize connecting underrepresented or systematically excluded communities to the Schuylkill River.
Application Deadline is May 1
Learn more about the Sojourn hosted by Schuylkill River Greenways.
Questions?
Contact Meghan Rogalus, Schuylkill Action Network Manager, at mrogalus@delawareestuary.org
---
Past Schuylkill Sojourn Steward Projects
2022 Sojourn Steward: Kara Foran
Kara's project was to capture the "River of Refuge" theme for the 2022 Sojourn. She shared updates from partnering organizations situated along the route who have alternative opportunities to recreate by the river. Kara did an awesome job with the Instagram takeover (click here to view) and she also created some incredible reels with drone footage, which you can click here to view. View Kara's photography collection on our Flickr page.
2021 Sojourn Steward: Riel Bilto
Riel Bilto is a teacher from Philadelphia. She also creates outdoor adventure videos for her YouTube channel "Rock Climbin' Grandma". Riel's project was to document what it is to experience the Schuylkill River, from the people to the places to the recreation to the drinking water to the industry to the history to the restoration and everything in between. This project fit into the 2021 theme of "Return to the River," so that anyone who views her video project can experience the Schuylkill River. You can view Riel's video project of her experience on 80 miles of the Schuylkill River below:
---
2019 Sojourn Steward: Julia Aguilar
Julia's project fit into the 2019 Schuylkill Sojourn theme: "Our Working River." Her project highlighted the industrial history of the Schuylkill River via social media, showing sojourn participants and the public the economic and environmental significance of the river. You can view photos of Julia's research and journey on our Instagram, Facebook, or Flickr.
---
2018 Sojourn Steward: Garrett Hoover
Garrett's project focused on photographing and identifying plants and wildlife found during his trip paddling the Schuylkill River. As part of the biodiversity study, he cataloged species found in the Schuylkill River Biodiversity project on the iNaturalist app.
---
2017 Sojourn Steward: Sarah Chudnovsky
Sarah conducted water quality testing during her trip along the Schuylkill River, during lunch and dinner take out locations. She also took pictures that help to indicate water quality along the river and posted on social media. Click the below links to learn more about her trip.
Water Quality Testing Results:
---
---
2016 Sojourn Steward: Bradley Maule
Brad used a GPS enabled camera to photograph litter hot spots along the Schuylkill River. During his trip, he posted photos and a daily blog about his experience to social media. Click the below links to learn more about his trip.
Information
Work Group: Engagement & Stewardship
Leading Organization: Schuylkill River Greenways & Partnership for the Delaware Estuary